SPATEX going 'Green' in 2020
SPATEX organisers have announced that the wet leisure showcase will be going 'Green' and introducing planet-friendly initiatives when the trade exhibition returns to the Ricoh Arena for the 2020 outing.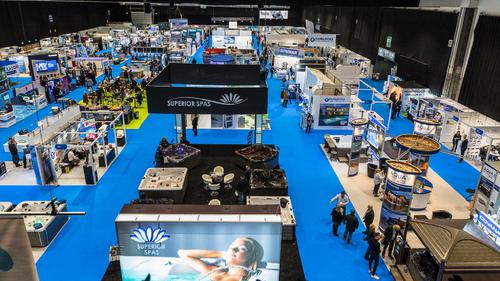 Leading hot tub and swim spa brands have already booked into the 24th edition of the exhibition that is set to have an eco-friendly theme, in what is expected to be a packed out Ericsson Exhibition Hall; when it opens for the UK and international trade audience descending on Coventry, from January 28 to Thursday January 30.
A 'SPATEX Goes Green' networking event, hosted after the second day of the exhibition on January 29, has been included into the schedule and the green theme is going to run throughout the exhibition with numerous additional initiatives such as compostable containers and cutlery, as well as recyclable lanyards.
"We have taken a long hard look at our operation and come up with ways in which we can take a more sustainable direction for 2020," explained SPATEX organiser Michele Bridle.
"Conscious of climate change, the depletion of the world's natural resources and the need to reduce the industry's dependency on plastic, the SPATEX team felt that we should be doing our bit to promote a greater awareness of the environment. After all, we can all make a difference.
"The regular SPATEX exhibitor and visitor should see quite a number of changes, both in the exhibition hall and at SPATEX's traditional networking party, which this year will be appropriately green themed.
"From supplying recyclable lanyards, compostable containers and cutlery, minimal food packaging, providing recycling bins in the exhibition hall to the SPATEX Goes Green networking event, we will be endeavouring, wherever possible, to do our bit for the planet and encouraging our visitors and exhibitors to do the same."
Softub UK, which has just exhibited at the Cornwall Home Improvement Show, after attending the recent Malvern Autumn Show; and Glamping Show at Stoneleigh Park, is a regular exhibitor that has followed up an appearance at this year's SPATEX with a 2019 WhatSpa? Best Buy Award for the Softub Resort 300 model and has the perfect eco-friendly credentials to complement the 'Green' theme for a successive appearance at SPATEX.
Over 10,000 owners in the UK appreciate the fact that their hot tub is extremely user and environmentally-friendly and has a low running cost to provide the perfect levels of power. Typical power consumption of a Softub is less than a microwave needs to heat a meal, due to the Hydromate system that combines the hot tub's pump, motor and heating into a single unit and the water is heated by the motor's excess heat.
Owners also have the perfect way to reduce power consumption with the capability to harness free energy from the sun by linking a Softub up to solar panels.
Superior Spas will be aiming to build on previous SPATEX successes as an exhibitor and gain a greater share of the UK market after announcing major expansion and relocation plans this year for its Chesterfield-based distribution company that supplies a wide range of wet leisure products, including WhatSpa? and WhatSwimSpa? Best Buy Award-winning hot tub and swim spa designs that include the Canadian Be Well Spas range.
Caldera Spas gained a hat-trick of 2019 WhatSpa? Best Buy Awards and exclusive UK distributor Certikin International, which also supplies Fantasy Spas by Watkins Wellness to the British market, will once again have a large multi-stand presence to promote its wide range of hot tub products and services along with cutting-edge pool and wet leisure technology.
European heavyweights Villeroy & Boch, and Wellis are other WhatSpa? and WhatSwimSpa? Best Buy Award-winning hot tub and swim spa brands that have booked a return visit to SPATEX; along with Spa Solutions, which is supplying Southern Hemisphere-manufactured hot tub designs to UK dealers.
This year, after being inundated with an unprecedented number of requests for larger stands, Michele had to utilise her experience to ingeniously restructured the 2019 SPATEX floorplan to free up more space to ensure that companies could be accommodated with larger stands.
To avoid missing out, many exhibitors have already booked extra space well ahead of the 2020 edition and with the remaining space selling fast, the SPATEX team are predicting the 'sold out' signs will be posted early again.
Spa Solutions, which supplies the unique IKON hot tub design by Vortex Spas that made a major splash at this year's edition and subsequently gained an inaugural 2019 WhatSpa? Best Buy Award, has booked a larger stand presence along with Aqua Warehouse, Ardex, Astral, Blue Whale Spas, Dryden Aqua, Lighthouse Pools, Ocea, Paramount Pools, Passion Spas, SCP, and Spa Parts Vortex.
"It's heartening to see so many companies returning and requesting larger stands," enthused Michele; "This is coupled with a significant number of new companies entering the fray for the first time."
With the double seminar programme playing such an integral part in SPATEX's visitor experience, the 2020 'Green' theme is being extended to the free-to-attend ISPE Workshops in Arena I and the parallel seminar programme in Arena 2.
Alongside a raft of many other important and relevant topics, there will be technical and inspirational talks on how those within the industry can all play a part in becoming more eco-aware, including a workshop on how to make energy savings via the use of automatic valves by Jimmy Lamb.
ISPE General Secretary  Ross Alcock has reported that the 2020 programme, during the three days of SPATEX, will have a bumper list of new titles and many sessions with an 'environmentally-friendly' theme have already been scheduled.
"The ISPE SPATEX 2020 programme features 16 new titles and at least six sessions with an 'environment-friendly' theme," divulged Ross.
"For 'seasoned' SPATEX visitors, with its ever-changing dynamics and themes, the 2020 edition will offer a multitude of things that will be new, and for those who have been pondering whether to attend SPATEX or not, 2020 has surely got to be the year to give it a go!"
During this year's SPATEX Charlotte Hotchin from RotoSpa was one of the daily Apple AirPod prize winners, along with John Barnwell of Pool & Spa Centre, and Richard Tucker of Pentagon Tiles. Graham Beddis won the Bon Jovi concert tickets, and Graeme Wilson won the couple's night away at DoubleTree Hilton.
For further information or to enquire about stand bookings for SPATEX 2020, contact the SPATEX team via email: michele@spatex.co.uk or helen@spatex.co.uk or directly by telephone on: +44 (0) 1264 358558.