Special rates following record SPATEX
SPATEX organisers are now making plans for the next instalment of the wet leisure showcase with 'Early Buy Rates' being launched for 2019 exhibitors after a record-breaking outing at the Ricoh Arena in Coventry.
The 23rd edition of SPATEX will once again have a mid-week schedule when it returns to the Ericsson Exhibition Hall at the Ricoh Arena next year from Tuesday January 29 to January 31, and organisers are currently encouraging prospective exhibitors to take advantage of 'Early Buy Rates' before the May 1 deadline. After that date, the special prices will no longer be available and will revert to the Standard Rate.
It was clear during the expanded 22nd outing of SPATEX that records were likely to be broken, especially as more exhibitors had participtated at the Ricoh Arena, 127 in total, than ever before during the five years that the venue had hosted the exhibition. Organisers have now confirmed that more visitors, 1,478 confirmed unique visitors, attended than last year; which was an 8.5 per cent increase on the total achieved for the 21st anniversary outing of SPATEX.
"Never let it be said that SPATEX is all about swimming pools, the hall, in places, was a sea of spas!" reported SPATEX organiser Michele Bridle.
"With leading spa and hot tub companies, some from America and Canada, it was a broad cross-section of the global water leisure industry that converged on Coventry.
"Hundreds of exhibitors and visitors alike let their hair down at the end of day two and donned glittery hats and feathered headpieces in the industry's biggest annual jamboree, which this year adopted a 'Speakeasy 1920's' theme."
Michele also revealed that day one of the Institute of Swimming Pool Engineers (ISPE) Workshops alone attracted 225 people – a number not seen before in SPATEX's 22-year history.
"It's obvious that visitors appreciate the industry's best source of free education and training," declared Michele.
"Over the three days, 768 people attended the double Seminar and Workshop programme, which were hosted by an impressive list of esteemed associations – the Swimming Teachers' Association (STA) and Pool Water Treatment Advisory Group (PWTAG) amongst them.
"Our exhibitors not only rewarded us with the smartest, most eye-catching stands SPATEX has ever seen, but they have also sent us some lovely testimonials, and we thank them for their support.
"It's our hope that SPATEX has kick started a great year for our exhibitors and we look forward to welcoming them back in 2019."
American Whirlpool and Vita Spa distributor Aqua Warehouse Group, who had a special stand to promote Covana automatic hot tub covers and the Aqua Spa Supplies product range, pictured,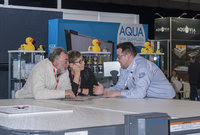 and Caldera Spas and Fantasy Spas distributor Certikin are among the leading exhibitors from the hot tub and wet leisure product market who have provided glowing testimonials, following their attendance at this year's record-breaking SPATEX.
Aqua Warehouse Group's Richard Hart, who officially launched the new American Whirlpool range that has been created as a 'super brand' from an amalgamation of brands including MAAX Spas and L.A Spas, highlighted within his testimonial that he had never worked so hard on an exhibitor stand.
"This was the best SPATEX ever!" declared Richard. "Not only were we busy on the stands, but the quality of the attendance was outstanding. I have never worked so hard on a stand in all my life. In fact, we were so busy I made a note, we need more staff for next year! We are now struggling to deal with all the enquiries. Not a bad problem to have!"
Certikin also reported high-quality lead generation throughout all three days of SPATEX and highlighted that all of their fellow exhibitors had 'upped their game' to ensure that the wet leisure showcase had a 'professional' feel to it.
"The Certikin stand was buzzing throughout all three days of the show and the efforts of the Certikin team were rewarded with multiple  high-quality leads from new customers as well as old," enthused Certikin's Neil Stephenson.
"From build-up to break-down, SPATEX 2018 was well organised, with all operations running like clockwork. It seemed that all exhibitors upped their game this year and the bigger exhibition paid off, with the show having a very slick, professional feel. Certikin looks forward to SPATEX 2019!"
GMT Spa International's Darren Tillyer said: "This year's SPATEX was our best ever. It gave us the opportunity to catch up with our existing clients, and more importantly we made contact with potential new clients, one of which has already visited us at our factory and is in the process of placing an order for a bespoke spa. May we congratulate all the SPATEX team on the excellent organisation and assistance given both before and during the event.  We're already looking forward to SPATEX 2019."
EJ Bowman's Phil Allman said: "SPATEX 2018 was a very positive show for Bowman and we will definitely be exhibiting again in 2019. From our point of view, we were very encouraged by the significant increase in spa and hot tub exhibitors and visitors, plus the excellent seminar and workshop opportunities, which add another dimension to the show."
Darlly Europe's Gil Gingell declared: "SPATEX 2018 was in one word: EXCELLENT! Aside from the excellent organisation and communication to exhibitors and visitors, we were particularly impressed by the overall quality of the show this year. It was like a small version of Piscine in Lyon."
Dave Foster of Designworks Tiles said: "By the morning of day three we had received 69 high quality leads, which represented 10 per cent new business. The show is always a pleasure to attend and we look forward to exhibiting every year."
Mark Ramsden of Complete Pool Controls (CPC) said: "CPC enjoyed another good show at the Ricoh. The show layout was excellent and the seminar programme was compelling, covering many 'hot' pertinent topics of the day. Visitor numbers were spread evenly across all three days, and it was good to meet 'old' friends alongside some new first-time visitors. As ever, the show provides a good platform to unveil new initiatives and products quickly and effectively to a large audience."
Paul Webb from Fairlocks Pool Products said: "The stand was consistently busy and both the quantity and quality of the visitors were excellent. We made several significant sales from the stand and received a high number of product enquiries as well, which will hopefully lead to further long-term business relationships. The Ricoh crew and SPATEX team were extremely helpful, efficient and attentive at all times."
Heatstar's Mark Osman said: "As always, SPATEX was a fantastic show for us and, once again, exceeded our expectations. Not only is the exhibition an opportunity for us to catch up with existing customers, but it also gives us a platform to show prospective customers who we are and what we can offer. The organisation is first class and the planning and set-up process is made seamless thanks to Michele and the SPATEX team."
To book 'Early Buy Rate' exhibitor space for SPATEX 2019, available until May 1, or for further details contact the SPATEX team via email: helen@spatex.co.uk or michele@spatex.co.uk or telephone directly on: +44 (0) 1264 358558.