Storage splash before SpaCare CMS seminar
Sunbeach Spas have been making a splash with promotion of the new Easy Step Drawers product as an optional add-on for all Easy Steps ahead of promoting the SpaCare CMS System at SPATEX 2022.
The Easy Step Drawers option provides two plastic drawers, which fit neatly under the step treads and Sunbeach Spas is promoting these drawers as being ideal for holding items such as small towels, test strips and other water testing kit. The Mansfield based WhatSpa? Approved company is also highlighting that the drawers can serve as a convenient and safe place to store smartphones, which is especially useful for users when connecting safely to the Bluetooth music system.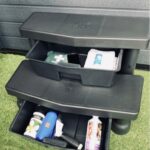 As an extra safety measure, Sunbeach Spas Director Wayne Green believes the drawers, pictured, can also provide storage for a First Aid kit to quickly react if children have accidents in the garden without having to go back indoors for medical supplies.
"We feel the addition of the drawers brings a whole new level of utility to all hot tub users, in what was already a high-quality and competitively priced step unit," said Sunbeach Spas Director Wayne Green.
"One thing that's useful to keep nearby that many people forget about is a first aid kit, whilst there is little chance of being injured whilst in the tub itself, if you have children in the garden and one takes a tumble, it's good to have the basics to hand rather than risk leaving little ones alone with the open hot tub whilst you go into the house."
The Sunbeach Spas team will be heading for Coventry to return as an exhibitor at SPATEX 2022, running from February 1 to 3 at the Coventry Building Society Arena. During the opening day afternoon of the wet leisure showcase Adam Stevens from Sunbeach Spas will be discussing the SpaCare CMS System in Arena 2, from 3:30pm to 3:50pm, as part of the three-day seminar programme.
Adam, who created the SpaCare CMS System for PC, smartphone and tablet use, will be highlighting how it can streamline workflows and why it promises to revolutionise how dealerships now place and track orders; as well as how showroom, delivery and engineering staff can interact with each other and customers, and how customers keep in touch with dealers over the lifetime of their hot tub.
Sunbeach Spas, which has its own Seasons Spas UK retailing outlet in Mansfield and serves a flourishing network of dealers that include Wirral-based The Hot Tub Place, has its own range of energy-efficient British-designed holiday park hot tubs and a dedicated Spa Safe product that eliminates holiday hot tub control tampering.
Along with introducing extra model options from the Oasis Spas brand that includes the 'plug and play' RA-371 model and HE-760 with Thermal Lock Insulation, the company has also increased storage capacity to help dealers meet extra demand this year.
"Like other suppliers we've had the problem of transport delays and extra cost but we've now increased our warehouse capacity to ensure we can cater for greater demand," said Wayne Green.