Summer showcase from brand leader
Leading Sundance Spas retailer MySpa UK has been turning the heat up on its sales and marketing initiatives with extensive promotion of WhatSpa? Best Buy Award-winning models at its enhanced showroom site in Leicestershire.
MySpa, which is also a specialist Marquis hot tub and swim spa retailer, has been ramping up its showroom and social media promotions throughout June by featuring pictures of past installations of hot tubs that have gained prestigious WhatSpa? Best Buy Awards, including a hat-trick of 2019 accolades for Sundance Spas for the Sundance Spas 680 Series McKinley, Sundance Spas 880 Series Optima and Sundance Spas 880 Series Aspen, and the popular Marquis Epic.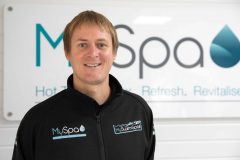 "We're delighted that many of our best-selling models, including the Sundance Spas 680 Series McKinley, Sundance Spas 880 Series Optima and Aspen, and the Marquis Epic, have won out against hot competition," enthused MySpa chief Andrew Wroot, pictured.
While the Marquis Woodstock Elite And Marquis V94L have also gained WhatSpa? Best Buy Award-winning status for Marquis; Andrew revealed that the seven-seater Sundance Spas McKinley, which comes in at 226 x 226 x 92cm, topped the MySpa sales charts last year ahead of gaining the 2019 WhatSpa? Best Buy Award acclaim in the £6,000 to £7,999 price category of the consumer magazine.
"The McKinley has been rewarded once again with a 2019 WhatSpa? Best Buy Award," reported Andrew; "This superb spa has been our best seller over the last two years and it's easy to see why, with low running costs, easy maintenance, a varied and powerful massage with diverter function and a variety of comfortable multi-level seating with ergonomic foot dome. This spacious hot tub has proved a real hit when wet testing."
Located just off the A46 in Leicestershire, Andy, Peter and Laura Wroot, and the MySpa team, have created a 'superstore' show site that is being promoted to consumers as 'the finest in the country' in the latest edition of WhatSpa?; in terms of single location outdoor display choice, combined with a wealth of hot tub and swim spa experience, product knowledge, as well as industry-leading aftercare and finance packages that have earned WhatSpa? Approved status.
MySpa is the UK's leading supplier of Sundance Spas, and last year founders Andrew and his father Peter reached a milestone with the brand by celebrating an impressive 20 years of continued partnership. Along with promotion of multiple WhatSpa? Best Buy Award-winning Sundance Spas models, MySpa has been instrumental in highlighting 'industry firsts' achieved by the brand that has been at the forefront of design and innovation since 1979, winning more external industry awards than any other manufacturer.
This year marks the 40th anniversary of Sundance Spas and the introduction of new models in the 980 Series; plus, the reinvention of the flagship 880 Series models, incorporating new contemporary cabinet design and overall styling.
"This stunning series is set to entice both new and existing Sundance Spas owners to take advantage of advanced cutting-edge technology and exquisite new design features incorporated into the beautiful all new 880 Series range," said Andrew.
The current summer showcase of promotions follows on from MySpa taking top accolades in the REACH Business Awards.
As well as landing the REACH Business Coaching Award for 'Business of the Year'; MySpa was honoured with the 'Work Environment of the Year Award' in recognition for the enhancements to its office building on site with the staff meeting and training room and also separating the back office operation from the newly refurbished retail space within the imposing Bentley's Garden Buildings site; which is being proclaimed as a 'must-visit superstore' location and incorporates the MySwimSpa division.
"The work we've done has really changed the dynamic of our business and improved both our employee and customer experience in store," revealed Andrew; "We would like to thank Jas Darar and Angela Darar and the Reach Business Community for all their help and support, working with us to develop and grow the business we love.
"Thank you also to Matthew Daly from Dalycom for introducing us to Reach Business Coaching and setting us off on this life-changing journey. We now have a business to be proud of and are loving life with all its challenges and looking forward to the next chapter."
This next chapter includes MySpa, which also supplies American Whirlpool and Jacuzzi, hitting top gear with its 'on the road' promotion after reporting that it is updating its fleet of vans and has recently collected the first two vehicles from Pickups Direct.
"We would like to thank Pickups Direct for sorting us out again with the right vans at the right price and organising the wrapping with Tunnicliffe Signs Ltd," said Andrew. "Thanks also to Jonathan Harrison for the design.
"We love the refreshed look and we're now looking forward to collecting the rest of the vehicles that will be soon installing the world's finest hot tubs and swim spas."
Coming in at 229 x 229 x 91cm and incorporating lounge seating within its design to accommodate seven people, the new Marquis Woodstock Elite has gained a WhatSpa? Best Buy accolade in the £8,000 to £9,999 price category.
Futuristic Marquis V94L from the Vector Range, which comes in at 239 x 239 x 91cm and is another lounge design for seven people, has also gained Best Buy recognition for the USA manufacturer in the £10,000 to £14,999 price range in the 2019 edition of the consumer magazine.
A 'hat-trick' for the brand has been clinched with the Marquis Epic Ultimate MS BA, which comes in at 229 x 229 x 89cm and incorporates lounge seating within its design to accommodate five people, gaining a Best Buy in the £15,000 Plus price category.
In the WhatSpa? Verdict the model is described as being able to deliver a 'simply superb hydrotherapy experience'. It also highlights that the model features unique Tri-Zone therapy controls and MicroSilk technology before stating that it makes it the 'whole package for health, wellness and beauty conscious spa buyers'.
Meanwhile, the Sundance Spas 880 Optima IP, which comes in at 226 x 226 x 96cm, has gained a successive Best Buy Award for Sundance Spas in the £10,000 to £14,999 price range after being proclaimed as 'one of the best all-seaters on the planet' in the WhatSpa? Verdict.
With a higher price tag, the Sundance Spas 880 Aspen IP has gained prestigious WhatSpa? Best Buy Award recognition in the £15,000 Plus price category.
Proclaimed as the 'ultimate party spa' in the WhatSpa? Verdict; the Aspen is described as a 'superbly designed, barrier-free spa with multi-level seating for eight'; while the Fluidix bearingless jet technology is also singled out for praise as being 'unparalleled in delivering ultimate adjustable hydrotherapy massage'.
Sundance Spas and Marquis display models, along with the extensive display of top quality hot tub and swim spa designs, are all available for customers to 'try before they buy' as part of the enhanced MySpa wet testing experience and a newly-refurbished changing area.
"We have the largest wet test facility in the UK, which is open seven days a week, and we always promote the fact that prospective owners of hot tubs and swim spas should wet test products before purchase them, rather than simply ordering one from a web site," divulged Andrew.
"That's why we have made such a commitment to enhancing our large show site so that we can provide a wide range of hot tub and swim spa brands and variety of wet leisure products for people to check out and choose as options for wet testing.
"It's the most reliable and trusted way for consumers to ensure the security and best outcome of their swim spa investment."