Swim spa summer promotion plunge
Marquis retailer 1 Stop Spas is diving into promotion of the USA brand's advanced swim spa range at a new flagship showroom in Sleaford before appearing as an exhibitor at the 152nd Heckington Show.
Dubbed as 'the UK's largest swim spa supplier' as part of dealership's latest advertising initiatives, including the 2019 edition of WhatSwimSpa? magazine,  1 Stop Spas has taken the plunge to generate more sales for the Aquatic Training Vessel (ATV) from Marquis after recently launching an imposing indoor hot tub and swim spa showroom in Sleaford. It is open throughout the week and weekends and visitors can browse around up to 25 hot tubs on display in the showroom, which has enough room to showcase five swim spas.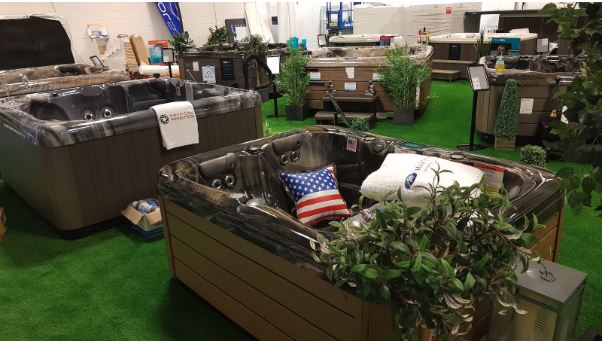 This 'flagship' location, pictured, situated in a former gymnastics hall at Sleaford Enterprise Park, has replaced the previous Billinghay-based store at the Mill Lane Industrial Estate that has now been transformed into 1 Stop Spas Preowned; which is now an exclusive second hand hot tub and clearance hot tub showroom; which is open on Friday, Saturday, Sunday and Mondays from 10am to 5pm. It also stocks accessories and chemicals for existing and new customers to purchase.
1 Stop Spas is now ramping up its status as a leading Marquis supplier with a wide range of options at the new showroom; which include multiple WhatSpa? and WhatSwimSpa? Best Buy Award-winning designs. These include the new Marquis Woodstock Elite, which has been bestowed with a 2019 WhatSpa? Best Buy accolade in the £8,000 to £9,999 price category; as well as the Marquis V94L from the Vector Range, in the £10,000 to £14,999 price category; and the Marquis Epic Ultimate MS BA, in the £15,000 Plus price category of the consumer magazine.
As part of the latest round of sales and marketing initiatives, 1 Stop Spas is highlighting its swim spa retailer status to consumers in the latest edition of WhatSwimSpa? with advertising that highlights that all of the dealership's models are 'American made'. Among these are a brace of 2019 WhatSwimSpa? Best Buy Award-winning ATV designs; which include the Marquis ATV-14 Sport, in the £20,000 to £29,999 price category; and the Marquis ATV-17 Kona Ultimate, in the £30,000 Plus price range.
Innovative Whitewater-4 Jets are a Kona exclusive from Marquis; which has made a big splash in the swim spa market with the ATV range that is endorsed by Ironman legend Dave Scott.
After appearing at the Lincolnshire Show to promote the new showroom location and the wide range of wet leisure products, which also include hot tubs and swim spas by American Whirlpool, the busy 1 Stop Spas team will be heading the short distance to the Heckington Show during the last weekend of the month, on July 27 and 28.
It is being staged five miles to the east of Sleaford, on the A17, and is proclaimed as the 'largest village show in England' and has received the prestigious honour of the Queen's Award for Voluntary Service.
Additional sales and marketing initiatives include the launch of a new Armed Forces and Uniformed Discount Scheme, so please call into store to collect your special discount loyalty card and present your ID to have your discounts applied to your cards.
1 Stop Spas chief Chris Brady is an ex-serving member of the RAF and many of the team are veterans or uniformed personnel. So they are proud to be helping those in the Armed Forces to gain the benefits of hydrotherapy with special discounts.
"We value the calibre of these personnel and what they bring to our multi-award winning aftercare and support," said Chris; "We are very proud to support our Armed Forces and their families."
Chris, who serves on the BISHTA Technical Committee, and runs the specialist SpaTech Training division, has been working with Anglian Water's scientific department this week to assure customers in the area that they can still safely enjoy their hot tubs and swim spas during a period of having to boil drinking water.
The Precautionary Safety Notice covers households in Horncastle, West Ashby, Tetford, Hagworthingham, Greetham with Somersby, Lusby with Winceby, Bolingbrok, Mavis Enderby, Raithby, Claxby with Moorby, Revesby, Maidenwell, Hameringham, Mareham on the Hill, Low Toynton, High Toynton, Scrivelsby, Belchford and Fulletby.
Employee-owned Marquis and the 1 Stop Spas team have also been promoting the success of the specialist 'business use' domestic hot tub models that help to comply with HSG282 guidance for holiday homes and holiday parks.
These are the Marquis Holiday Park Escape, the Holiday Park Getaway, and the Holiday Park Relax that achieved three prestigious WhatSpa? Holiday Park Best Buy Awards accolades in the inaugural edition of the holiday home and holiday park trade magazine.
Hundreds of the Marquis models have been purchased by Forest Holidays; who have become the first holiday chain to gain 'Certified Hot Tub Technician' status after successful tuition by SpaTech Training; which has developed a new 'Holiday Park Safe Operator Course' that was launched earlier this year.
SpaTech Training for the trade has been scaled down for the busy summer months but will resume the training and testing provision of a wide range of specialist courses during the autumn and winter months.