Swiss hot tub specialist joins exam success
SpaTech Training Director Chris Brady has praised hot tub specialists who have successfully completed professional training courses including a candidate who flew in from Switzerland to gain intensive 'Certified Hot Tub Technician' tuition.
From his Lincolnshire base, Chris has linked up with the Association of Pool & Spa Professionals (APSP) and BISHTA to establish the SpaTech Training scheme that is currently conducting the latest schedule of training and exams throughout the autumn and winter months.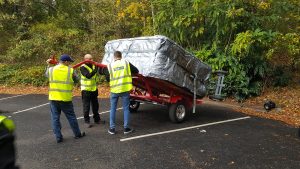 Chris believes the training scheme, which has now completed the inaugural edition of the 'Hot Tub Safe Manual Handling Course', pictured, will help to deter 'cowboy' hot tub retailers from gaining a foothold in the market; by convincing consumers to seek out dealerships and technicians that have gained professional training designed for the demands of the UK's hot tub market.
Jon Goldsmith from Verbia Spa in Switzerland was among nine candidates who recently passed the 'Certified Hot Tub Technician' course. It was run by SpaTech Training over three long and intensive days in Solihull at the start of the week, with the exam then taking place on the Thursday morning.
In contrast to his Swiss counterpart, Paul Etherington from Hot Tub & Spa Solihull had a shorter journey to make to ensure he gained the necessary knowledge from the flourishing SpaTech Training before passing the 'Certified Hot Tub Technician' exam. Other successful candidates were: David Temple, from 1 Stop Spas; Liam Shelley and Adam Thompson from All Weather Leisure; Alex Arnold from The Swan Pool & Spas; Nick Walker and Brandon Stratford from Superior Spas; and Dan Reynolds from Walfins Hot Tubs.
"We're delighted that these latest successful candidates are now 'Competent Spa Professionals' and can wear the APSP Certified Hot Tub Technician Patch with pride," said Chris Brady.
Proceeding the exam, SpaTech Training hosted its first official 'Hot Tub Safe Manual Handling Course'. This course covers the mandatory Health & Safety Manual Handling Principles required by law for companies with over five employees; with specific specialist training in the safe lifting operations within the hot tub industry; which is essential training for those involved in the movement of heavy materials, such a hot tubs and swim spas.
Local hot tub specialist Paul Etherington also passed this Hot Tub Safe Manual Handling course, along with David Temple; Adam Thompson; and Alex Arnold. They were joined on this course by Scott Walker from All Weather Leisure; as well as Chris Whyte and Thomas Whyte from MySpa.
"Technicians don't get the credit they deserve, and it is now great for these guys to get some recognition for their exam passes; which are also a reward for the companies investing into their people," said Chris.
"We will now be running courses almost every month throughout the off-peak season, in our efforts to help to create differentiation in the industry; which will help to guide consumers."
Chris; who runs the booming 1 Stop Spas dealership in Lincolnshire, specialising in American Whirlpool and Marquis hot tubs and swim spas; will be taking a break from his regular duties and passing on his knowledge this week to companies in the hot tub holiday market; as one of the guest speakers at the two-day Holiday Park & Resort Innovation show at the Birmingham NEC, taking place on Wednesday, November 7, and Thursday, November 8.
Scheduled from 2pm to 2:30pm on Wednesday, in Theatre 10, his talk will be entitled 'Hot Tubs for your Business'; which will focus on the latest Health and Safety guidance, compliance with HSG282, and recommendations for hot tubs in a business setting.
On Thursday during the holiday park product extravaganza, Chris is teaming up with EJ Bowman Sales Manager Tony Carter to focus on advanced technology that can ensure hot tubs will reach the prime temperature; in two to three hours; as part of their talk entitled 'Heating Hot Tubs faster and Reducing Energy Costs'. It is scheduled to take place from 12:30pm to 1pm in Theatre 12.