Trade acclaim during expanded BISHTA Awards
Hot tub and swim spa retailers gained prestigious trade acclaim for their professional installations and showroom services during the expanded BISHTA Awards ceremony of the 2023 British Pool & Hot Tub Awards.
BISHTA and SPATA members turned out in force at the Coventry Building Society Arena, following the first day of SPATEX 2023, for the wet leisure industry's annual gala evening and presentation ceremony. It was hosted by Phil Oldershaw and presenting this year's awards were BSPF President Pete Grinnall, BISHTA Chairman Dorian Davies, and SPATA Chairman Ben Studdy.
In recognition of Peter Newbery, who was a driving force in the hot tub industry as the owner of Spaform, there was a new award to increase the BISHTA accolades this time round. Peter was a hugely creative person and someone who believed in innovation from every one of his team members.
The Peter Newbery Award for UK Innovation has now been introduced to showcase individuals, staff members, organisations, companies and partnerships for introducing initiatives, products or processes with inventive approaches as they navigate a developing and competitive industry. Inaugural winner of this innovation award, pictured, is Darlly Europe for the Sanistream System.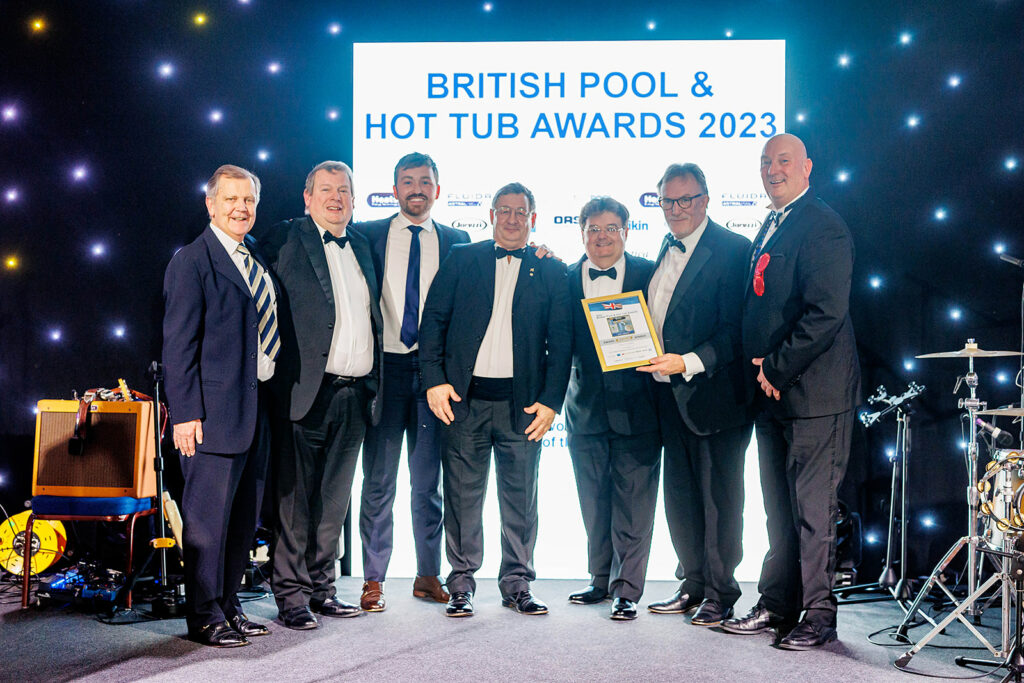 This product has enjoyed unprecedented sales success in the hot tub holiday market after being conceived as a simple combined filter and sanitiser solution to assist with HSG282 guidance compliance. During SPATEX 2023 a new Sanistream Plus product was launched on the Darlly Europe stand to target the wider hot tub consumer market.
Hydropool Devon was the big winner on the night with a bumper haul of BISHTA Awards, including a Gold Award in the 'Showroom of the Year' category. During the SPATA Awards ceremony experienced wet leisure product specialist Oyster Pools & Hot Tubs, which supplies Jacuzzi and Vortex Spas products, won the 'Peter Geekie Award for Retail Excellence', while pool and hot tub specialist Tanby Pools won the 'Outstanding Pool of the Year' category.
SPATA introduced some additional judging criteria for their award entries this time round. Using a points system, the judges awarded Gold and Silver Standards, and Bronze awards based on the technical and aesthetic aspects of the project, also taking into account (where applicable) the plant room installation and the paperwork provided to the client. The decision to enhance the SPATA Awards element of the British Pool & Hot Tub Awards was made by the SPATA National Council and Technical Committee, to continue encouraging members to meet and exceed SPATA Standards.
This year the BSPF also recognised the outstanding service and contribution of Jim Gordon from Jim Gordon Associates. Jim, who made a huge difference to the industry over many decades, sadly passed away in 2022 and his son Phil Gordon collected the award on behalf of his family.
Special guest of honour at the awards ceremony was Olympic silver medallist and two-time 10-kilometre open water world champion Keri-anne Payne. The South African-born British swimmer specialises in marathon open water swimming and long-distance freestyle swimming in the pool.
"This year's entries superbly demonstrate the skilled projects undertaken by BISHTA and SPATA members," said BISHTA and SPATA Managing Director Chris Hayes.
"The quality of work from this year's winning companies is outstanding and demonstrates the talent, skill, and quality of the UK wet leisure industry. Congratulations to all the winners; we wish all of them continued success moving forward through 2023 and beyond."
2023 BISHTA WINNERS were:
Residential Hot Tubs below £7,000
GOLD – Cornish Hot Tubs
SILVER – Hot Tub Suppliers
BRONZE – Hydropool Devon
BRONZE – Hydropool Devon
BRONZE – Tanby Pools
BRONZE – Concept Spa

Residential Hot Tubs £7,000 to £14,000
GOLD – Hydropool Devon
SILVER – Hydropool Devon
BRONZE – All Weather Leisure Midlands
BRONZE – Hyperion Hot Tubs
BRONZE – Barnsley Hot Tubs

Residential Hot Tubs £14,000 and Over
GOLD – SpaFlo
SILVER – North Spas
BRONZE – Cornish Hot Tubs
BRONZE – Barnsley Hot Tubs
BRONZE – North Spas
Swim and Exercise Spas
GOLD – SpaFlow
SILVER – Hydropool Devon
BRONZE – North Spas
Hot Tubs Change Lives
GOLD – Hot Tub Suppliers
SILVER – Hydropool Devon
BRONZE – Hydropool Devon
Hot Tubs in a Holiday Setting
GOLD – Hot Tub Suppliers
SILVER – Hydropool Devon
BRONZE – Holivans
BRONZE – Hydropool Devon

Hot Tub Happiness
GOLD – Hydropool Devon
SILVER – Hydropool Devon
BRONZE – All Weather Leisure Midlands
BRONZE – Hot Tub Suppliers
Showroom of the Year
GOLD – Hydropool Devon
SILVER – All Weather Leisure Midlands
BRONZE – 1 Stop Spas
BRONZE – Marquise Spas

Best Use of Digital Media
GOLD – Hot Tub Suppliers
The Peter Newbery Award for UK Innovation
Darlly Europe
2023 SPATA WINNERS were:
Residential Outdoor Liner Pools under £75,000
Gold – Mermaid Pools
Silver – Centurion Leisure
Silver – Cresta Leisure
Silver – Cresta Leisure
Silver – Albatross Pools and Spas
Silver – New Dawn Pools
Residential Outdoor Liner Pools over £75,000
Gold- Mermaid Pools
Silver – Blue Cube Pools
Residential Outdoor One-Piece Pools
Gold- Centurion Leisure
Silver – Centurion Leisure
Silver – XL Pools
Silver – XL Pools
Silver – Waterstream
Silver – Waterstream
Residential Outdoor Concrete Pools under £125,000
Overall Winner Albatross Pools and Spas
Gold- Centurion Leisure
Gold- Tanby Pools
Silver – Tanby Pools
Silver – Centurion Leisure
Silver – Albatross Pools and Spas
Silver – Whitewaters
Silver – Falcon Pools
Residential Outdoor Concrete Pools over £123,000
Overall Winner Whitewaters
Gold – Tanby Pools
Gold – Mermaid Pools
Silver – Letts Swimming Pools
Silver – Tanby Pools
Silver – Centurion Leisure
Silver – New Dawn Pools
Freeboard Pools under £150,000
Overall Winner Whitewaters
Gold – XL Pools
Silver – Tanby Pools
Silver – Centurion Leisure
Silver – Whitewaters
Silver – Origin Leisure
Silver – Origin Leisure
Silver – Cresta Leisure
Freeboard Pools over £150,000
Gold – Origin Leisure
Silver – Origin Leisure
Overflow Pools under £200,000
Overall Winner – Tanby Pools
Gold – Whitewaters
Special Requirement Pool of the Year
Gold – Whitewaters
Silver – Whitewaters
Silver – Centurion Leisure
Commercial Pool of the Year
Gold – Cresta Leisure
Overseas Residential Pool of the Year
Gold – Exterior Experience Landscaping
Silver – Exterior Experience Landscaping
Bronze – Niveko
Bronze – Niveko
Refurbishment Pool of the Year
Gold – Mermaid Pools
Silver – Tanby Pools
Silver – Tanby Pools
Silver – Cresta Leisure
Bronze – Niveko
Bronze – Niveko
Inground Spas
Gold – Whitewaters
Silver – Whitewaters
Silver – Tanby Pools
Silver – Tanby Pools
Silver – Centurion Leisure
Silver – Centurion Leisure
Wellness
Gold – Whitewaters
Silver – Whitewaters
Silver – Cresta Leisure
Lifestyle Image of the Year
Gold – Blue Cube Pools
Silver – Tanby Pools
Silver – Tanby Pools
Peter Geekie Award for Retail Excellence
Oyster Pools and Hot Tubs
Paul Kite Award for Pool Star of the Year
Chris Davies of Cresta Leisure
Dick Milward Trophy for Pool Contractor of the Year
Whitewaters
Outstanding Pool of the Year
Tanby Pools