Trade debut for new corporate identity
European hot tub and swim spa manufacturing heavyweight Aquavia Spa has officially launched its new corporate identity to an international trade audience during the 2019 edition of Piscina & Wellness Barcelona.
Taking advantage of being on 'home turf' at the 25th anniversary of the Barcelona exhibition, close to its headquarters in Cervera, Lleida, Aquavia Spa showcased its new logo and cutting-edge 'Made in Europe' products to visitors during the four-day wet leisure and wellness showcase.
Aquavia Spa, which suffered a fire at its state-of-the-art production facility during the summer, has revealed that the new corporate image is part of a major corporate initiative to quickly bounce back and reinvent itself by embarking on a new chapter that symbolises the evolution of the Catalan company and the continued development of an extensive product list; which includes WhatSpa? Best Buy Award and WhatSwimSpa? Best Buy Award-winning designs.
After gaining prominence in Spain and throughout Europe for its innovative and eco-friendly production qualities, which have been promoted at major exhibitions including appearances as an exhibitor at SPATEX and Piscine Global, Aquvia Spa is preparing to extend its presence in the wet leisure market even further with the new corporate design. According to the company, it is based on simple and balanced lines and is easily adaptable, with the aim of improving visibility without losing the essence of the company's brand.
Inspiration for the new design has been centred around creating a unique, easily readable and readily associable logo that defines Aquavia Spa's mission and company values. A change of font to sans-serif and the shift in colour palette to silver tones provide the necessary nuances of design, innovation and exclusivity.
Aquavia Spa has divulged that the design avoids the obvious range of blues used in the industry and increases the company's appeal to its target audience. It has also revealed that the circle within the new logo, symbolises perfection and eternity with no beginning or end; and it is used to represent movement, in this case the movement of water.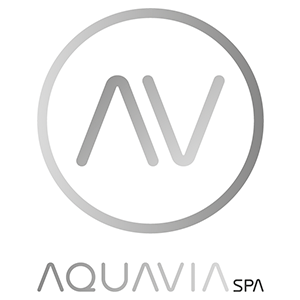 The company has also divulged that by utilising the circular form it seeks to convey a 'positive emotional message', to reinforce its brand image while also serving as a hallmark.
It is a bold attempt to create a positive new chapter for the company after the major setback in July, with substantial product losses when a fire broke out at the production plant in Cervera. Thankfully nobody was hurt in the fire, and the company stressed that it was complying with all the compulsory fire prevention measures and followed the safety plan established by the industry at all times.
Now, like a phoenix rising out of the flames, the company will be utilising the new corporate identity to spearhead the promotion of a rapidly growing range of hot tub and swim spa designs that includes a new five-seater Essence hot tub design.
Coming in at 216 x 216 x 90cm, the Essence incorporates two lounger options that face each other in an 'L' shape, as well as three traditional seats; has also been added to the manufacturer's Premium Range.
It is a result of years of research and development and has been designed with the continuous Woodermax exterior and has an anti-corrosive and non-deforming metal frame. Within the Essence there are a total of 75 massage points that are spread across 65 massage jets and ten air massage nozzles. It also has a waterfall and two water fountains, with LED lighting that provides the option of adding up to five Colour Sense spotlights.
The Essence also features Blue Connect Plus capability, which is a new accessory that has been launched by the manufacturer for the Premium Range. The technology has integrated weather forecast functionality and provides owners with the user-friendly capability to analyse the quality of their hot tub's water, via their smartphone or tablet devices, so that it can always be maintained at optimum levels.
Among its blossoming product list are two WhatSpa? Best Buy Award-winning models that have gained prestigious accolades in the 2019 edition of the consumer magazine.
Coming in at 216 x 216 x 90cm , the Aqualife 7 has achieved Best Buy acclaim for a successive year in the £8,000 to £9,999 price category; while the Aqua 8 has made its Best Buy debut in the higher £10,000 to £14,999 price range.
Aquavia Spa's thriving swim spa range has also gained double 2019 WhatSwimSpa? Best Buy Award recognition with the Compact Pool achieving Best Buy status in the sub-£19,999 price category; while the Amazon SwimSpa has been bestowed with a Best Buy accolade in the £20,000 to £29,999 price category.
They have joined a growing choice of models including the unique Origami and innovative all-seater Cube and Cube Ergo designs, which have also achieved WhatSpa? Best Buy Award-winning acclaim in recent years.
They have now become a prestigious promotional boost for dealers in the UK, including WhatSpa? Approved dealer Euphoria Lifestyle based in West Sussex, after the pledge by Aquavia Spa that the manufacturer is committed to enhancing its presence in the British market with its continued product expansion of four dedicated ranges.
These are the Exclusive range, for owners requiring the ultimate in sophisticated design; Premium, with elegant and fully-equipped models; Aqualife, providing contemporary functionality and value; In-ground, providing owners with spa options that are suitable for in-ground or decking installations; as well as the thriving Professional range, for commercial and public use.
"We're committed to increasing our presence in the British market and have expanded our product range to provide even greater choice," revealed Aquavia Spa Sales Area Manager for the UK Sonia Guix.
"Our dealers and their customers can be assured that we're one of the few manufacturers to provide very long-term warranties, such as 15 years on the structure, because we're proud of the reliability and quality of our products."