Wellis promoting eco-friendly credentials
European hot tub and swim spa manufacturing heavyweight Wellis is gearing up for SPATEX 2022 after launching its 'The Sense of Nature' marketing campaign to help promote advanced eco-friendly technology and production credentials.
Wellis has ramped up its production and warehousing capacity and is now in a stronger position than ever to meet the rapid rise in demand for hot tubs during the COVID-19 pandemic with an expanding Wellis UK presence that will be highlighted during SPATEX, from Tuesday, February 1, to Thursday, February 3, at the newly-named Coventry Building Society Arena.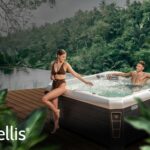 Within its new 'The Sense of Nature' campaign, pictured, Wellis is highlighting that it places a huge emphasis on eco-friendly production capability. As part of these 'green manufacturing' credentials the company minimises unnecessary waste during production and strives to recycle as much of the emerging waste as possible.
Wellis is also promoting the fact that it has adopted advanced technological solutions within its WhatSpa? and WhatSwimSpa? Best Buy Award-winning products to ensure they are kinder to the planet by being more sustainable and energy-efficient.
Another key strength for Wellis over its international manufacturing rivals is the lower carbon footprint and quicker lead times for product deliveries to the UK, combined with enhanced services and exceptional support for Wellis UK dealers to ensure high levels of satisfaction for their customers in the booming domestic and hot tub holiday markets.
Forest Holidays, for example, has recently gained award-winning acclaim for its hot tub holidays marketing initiatives and will be expanding current and new site locations with additional HSG 282 compliant Wellis hot tubs to ensure higher 'staycation' customer levels can be accommodated.
"The hot tub holiday market is really booming and many companies in this sector, such as Forest Holidays, are now seeking out additional hot tubs from us for their existing sites and as they make plans for new locations," said David Baker who is leading the growing Wellis UK presence to meet demand in 2022 and subsequent years.