Award boosts 50th anniversary promotions
Experienced hot tub and wet leisure product supplier All Swim has received a major boost for its 50th anniversary celebrations after being bestowed with the prestigious Peter Geekie Award for Retail Excellence.
The WhatSpa? Professional hot tub dealership, which specialises in Caldera Spas and Fantasy Spas by Watkins Wellness that are supplied in the UK by Certikin, was rewarded for its retailing performance as part of the SPATA Awards presentation during the 2022 British Pool & Hot Tub Awards ceremony.
Since the family-run company was first established in 1972, All Swim, based at the Link Trade Park in Cardiff, Glamorgan, has won the Peter Geekie Award for Retail Excellence on three occasions. The company is now promoting the achievement as part of its 50th anniversary celebrations at its showroom that has welcomed back in stock the popular twin lounger Caldera Spas Capitolo model, which comes in at 208 x 208 x 84cm and has three additional seating options within its design that also incorporates a cascading waterfall feature.
As well as its Caldera Spas and Fantasy Spas hot tub options there are additional Cove Spas by Nordic Hot Tubs and Week End Spas by Wellis within the impressive award-winning showroom retailing format. These brands are then professionally complemented with a wide range of accessories for owners to increase the enjoyment of their hot tubs and maximise their use of the advanced hydrotherapy functionality.
For its 50th anniversary year of promotions All Swim has revamped its website design to help highlight a wide range of additional swim spa, pool, sauna, and massage therapy products. These include Endless Pools swim spas, with theOriginal Pool and Performance Poolmodels being promoted this year; Heatform Panel Pools, which have the environmentally-friendly benefit of being manufactured from plastic bottles; Harvia Outdoor Saunas. with special price offers to reduce the cost forcustomers seeking outdoor saunas that can be combined with hot tubs for soak and steam projects; and a market-leading range of Affinity Massage Tables, with the options of hardwood or aluminium frames.
One of the key ingredients for all of these products is the fact that they provide best quality peace of mind assurance, which is backed up by an award-winning retailing team that provides exemplary customer service.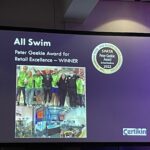 "We're delighted and humbled to have been awarded the winning Peter Geekie Award for Retail Excellence," said All Swim's Jane Veysey, after the award presentation. "We've been the proud recipients of this award three times, which is enormous recognition for our company.
"Thanks to all who helped make this possible, our team and suppliers. We couldn't have done it without them.
"We pride ourselves on providing our clients with the best possible quality and service to receive their new install right through to the aftersales service."