Battle against rogue traders intensifies
Leading hot tub and swim spa dealers have teamed up with WhatSpa? and WhatSwimSpa? to highlight the dangers of online 'webshops' and to help combat the threat to the wet leisure market from rogue traders.
Thriving American Whirlpool, and Marquis hot tub and swim spa retailer and 1 Stop Spas Managing Director Chris Brady has been highlighting evidence of an online 'fire-starter' faulty hot tub and the perils of purchasing hot tubs and swim spas from 'webshops' in the latest editions of WhatSpa? and WhatSwimSpa?.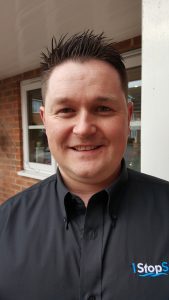 From his Lincolnshire base, Chris, pictured, has linked up with the Association of Pool & Spa Professionals (APSP) and BISHTA to launch the SpaTech Training scheme. He believes it will help to deter 'cowboy' hot tub and swim spa retailers and 'internet fraudsters' from gaining a foothold in the market by convincing consumers to seek out dealers who have gained the highest level of training from courses that have been specifically design for the demands of the British hot tub market.
"We've collected evidence, including horrific fire damage pictures, to prove that there is still a problem of poorly manufactured hot tubs being purchased online and being delivered without any qualified instruction on how to install them and use them safely with the correct level of water care knowledge," reported Chris.
"That is one of the main reasons we launched the SpaTech Training scheme to provide showroom dealers with high levels of training and to help prevent cowboy dealers from taking advantage of hot tub consumers.
"This is not just designed as an 'attendance course with a certificate for everyone who turns up for the course. There have been failures and if someone doesn't meet the expected pass level then they will fail the course.
"Consumers can now be assured that dealers who have undertaken BISHTA and SpaTech Training courses will have proven levels of training to provide them with the capability and understanding on how to correctly install and service quality hot tub products and then provide owners with the correct levels of guidance on how to safely use them.
"This is a major step forward for the hot tub market and we hope it will prevent further horrific cases of poor quality hot tubs posing a threat to the health and safety of their owners."
The latest 'Net Dangers' campaign in the WhatSpa? Media Group's 2018 consumer publications follows the news that rogue trading brothers Ross and Luke Quinn, of Coxhoe, County Durham, have been jailed for internet fraud and tax evasion after they conned people across the country with their online companies selling hot tubs; as well as steam rooms, log cabins, furniture, hand-driers and ride-on lawnmowers.
Teesside Crown Court heard that the majority of the brother's customers never received the goods that they had sent payments for and were not given refunds. Ridiculous excuses to people who complained their goods had not turned up, included one couple being informed that their hot tub was delayed due to the sea in China being frozen over and so the hot tub could not be delivered to the UK.
The court was told that Ross Quinn registered six online retailers – four that were involved in fraudulent trading – but paid little or no tax for them.  Businesses included: Electro Star, Planet Distributions, Red Saunas, Tub Furniture, Ride Mow, Super Hand Dryer and Tool Shed. The court also heard that Luke Quinn's only company, Red Saunas, committed fraud and dodged tax. During a five-year period approximately 400 complaints were received, with the loss to consumers reported to be around £625,000.
Judge Sean Morris jailed Ross Quinn for six-and-a-half years and banned him from being a company director for 13 years and three months; while Luke Quinn was jailed for four years and given a nine-year director disqualification.
Branding the brothers as 'internet fraudsters' Judge Morris said: "'Society is increasingly turning to the internet as a market place to buy and sell goods, so the probity of those who trade online is of the utmost importance.
"The news is full every day of the shortage of money for hospitals, defence and the courts, and those who evade their tax are responsible for operations not taking place, for people not being cared for properly and the lack of police on the streets. It is no laughing matter, revenue fraud. It is a fraud against every decent citizen and the vulnerable."
The perils to hot tub consumers of purchasing from wet leisure 'webshops' was also illustrated a few years ago  after online retailing operation Danz Spas brought the curtain down on its operation after criticism about poor service, incorrect deliveries and faults not being rectified.
Joint partner of Jacuzzi specialist dealership, and Aquavia Spa retailer Euphoria Lifestyle Mike Robinson has an award-winning company website, which has been bestowed with Gold Award recognition from BISHTA, and knows only too well that it can help to increase sales.
Mike; who is featured in the latest Net Dangers campaign by WhatSpa?; still believes, though, that the online environment is fraught with 'net dangers' and is causing unsuspecting consumers to seek cheap models from dubious 'webshop' suppliers. These are then usually worthless within months, rather than lasting many years.
"Even though most people we speak to in our showroom eventually do purchase quality hot tubs from us or other showroom dealers; there are still those who ignore all of our advice and try to get an online bargain," divulged Mike.
"The trouble is, once most people have a bad experience with a high-ticket hot tub product from a 'web shop' they are not likely to then go out and purchase a quality hot tub from a showroom dealership.
"It is worrying, but hopefully consumers who read the features by WhatSpa? and see awareness campaigns by BISHTA and brands such as Jacuzzi will think twice before risking their money on an online hot tub purchase that could be worthless junk not long after delivery."