Hot new sauna options for dealers
Hot Tub Living Expo exhibitor Almost Heaven Saunas has ramped up its choice of options to dealers and their customers following the announcement that all outdoor Barrel Saunas are now available in Nordic Spruce.
Almost Heaven Saunas, which has been a manufacturer of authentic Finnish saunas for almost 40 years, will be showcasing its products at the Birmingham NEC during the latest edition of the former UK Pool & Spa Expo, which has now been renamed Hot Tub Living Expo. The Holland, Michigan-based company currently produces Barrel Saunas to accommodate two to eight individuals that are becoming increasingly popular with hot tub dealers in the UK as well as for their USA counterparts as part of flourishing complete outdoor wellness living product packages for their prospective customers.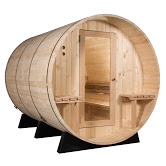 These options include the Pinnacle Nordic Spruce model, pictured, which are scheduled to be promoted on the Almost Heaven Saunas stand at the NEC during the two full days of the Hot Tub Living Expo, on October 24 and 25, following the new Exclusive VIP Preview Evening on October 23 for a select group of companies and individuals to meet the 2016 exhibitors.
Thanks to the additional production options, retailers of Almost Heaven Saunas and their customers can now choose between three types of lumber: the new Nordic Spruce, Clear Western Red Cedar, and Rustic Western Red Cedar.
"This enlarged selection makes it easier for customers to choose a sauna that best complements their home," said Almost Heaven spokesperson Becky Vandenberg.
"Nordic Spruce is a smooth and light-coloured lumber and an excellent material for sauna manufacturing. This wood is naturally resistant to the elements, including mildew, and is also durable, ensuring that customers will be able to enjoy their sauna for years to come."
Becky stressed that, as with all saunas manufactured by Almost Heaven Saunas, the latest Barrel Saunas in Nordic Spruce have not been treated with any chemicals, to help create a completely natural and high-quality sauna experience.
"The Barrel Sauna design is not only aesthetically pleasing, but it is also extremely efficient at distributing heat, shedding rain and snow, and providing comfort," divulged Becky.
To book a stand at the Hot Tub Living Expo in October or to find out more details about any of the various elements of the event, including the VIP Preview Evening, contact the team at New Events directly on + 44 1428 609 382 or email via:info@neweventsltd.com