Hot Tub Living Expo gains new elements
Organisers of the Hot Tub Living Expo have announced that the Birmingham NEC showcase will be hosting a 'VIP Preview Evening' and  'Live Industry Superstore' in partnership with exhibitors for wet leisure specialists  in October.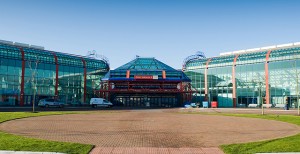 The former UK Pool & Spa Expo is returning to the NEC host location, pictured, as the newly renamed Hot Tub Living Expo for two full days, on October 24 and 25, which are set to follow the introduction of a new Exclusive VIP Preview Evening on October 23 for a select group of companies and individuals to meet the 2016 exhibitors.
As part of the new format, organisers have reported they are making preparations for the inclusion of the VIP event among the fresh changes for the Hot Tub Living Expo to allow industry representatives to meet and network to gain knowledge of new products and ensure the 2017 sales process gets off with a bang.
"The previous UK Pool & Spa Expo events have always delivered a high quality visitor to exhibitors, but as we know building relationships and securing exclusive dealerships and contracts can take time – that is why we have introduced an exclusive evening for VIPs to spend quality time with Exhibitors and to view the latest products and services before anyone else," explained Event Director Claire Saunders.
"The Preview Evening will incorporate hospitality, networking and drinks receptions, getting everyone ready for the busy two days to follow."
WhatSpa? and WhatSwimSpa? Best Buy Award-winning L.A Spas and Vita Spa distributor Aqua Warehouse Group, along with Wellis distributor Superior Spas, will be among the major hot tub and swim spa brand exhibitors at this year's wet leisure showcase. They are being provided with passes to supply to their guests for the VIP event evening; ahead of the two days of live forums and debates for attendees to join in on discussions and find out what are the key challenges and opportunities for the industry moving forward.
Claire revealed that as well as exhibitors being allocated a specific number of VIP passes there is also an opportunity for members of the wet leisure industry to win tickets for the Exclusive Preview Evening of the Hot Tub Living showcase.
"If industry specialists want to try and win a ticket to the Exclusive Preview Evening then they should send the Hot Tub Living Team an email with their contact details," said Claire; "Remember networking is everything and you will get a chance to spend quality time with industry specialists and meet other key companies in this industry."
"This year we are also introducing other new features on the show floor including the Live Industry Superstore. In partnership with our Exhibitors we will be creating the dream showroom.
"Attendees will be able to engage with suppliers and experts on how to make the most of your showroom space, learn the tips and tricks on what encourages the consumer to purchase, how to upsell, what environment will keep your consumers in the showroom, what will encourage them to keep coming back to you.
"We will be inviting Exhibitors to be part of this with new products and staff on site to create this ultimate experience.
"Attendees will also have the opportunity to purchase products directly from the store. The Live Industry Superstore will showcase the very latest and greatest designs…..it will be the ultimate wet leisure store and will take centre stage within the Hot Tub Living Expo."
Another element of the Hot Tub Living Expo will be the 'Hot Tub Living Marketplace', which Claire reported will be a great opportunity for those companies that do not require an individual stand at the show. This part of the exhibition, according to Claire, is being targeted at new start up companies that maybe unable to dedicate staff resources or simply just want to try the new event without a large outlay.
"The Hot Tub Living Marketplace takes its inspiration from the many national pavilions which we organise globally," said Claire. "An open plan concept will provide each participant with a display space of either a podium, counter, showcase or similar; together with a display for literature.
"To complement this there will be a central area for discussions with clients and a central tea and coffee station will provide the participants of this area with a warming and relaxing environment to engage with customers and attendees. Signage above the marketplace will further support these participants with their branding and logos enjoying a strong presence on the show floor."
Claire also revealed that there will be a dedicated 'Pool Product Zone' to compliment the hot tub and swim spa showcase with some of the latest elements and products of the swimming pool market.
"The name may have changed from UK Pool & Spa Expo to Hot Tub Living Expo, however, the event offers more than just hot tubs and swim spas," said Claire. "The Pool Product Zone is a dedicated area on the show floor for the UK pool industry to showcase the latest products.
"There is considerable diversification within the UK wet leisure industry and to stay ahead of the competition you need to offer a wide portfolio of products. The Pool Product Zone will offer a one stop shop to view the latest products available from the UK's leading suppliers. Contact the show team to find out how you can be part of these areas and learn more about the very attractive cost options.
"The networking doesn't end there. With the new Resorts World onsite at the NEC you can continue to build business relationships in the bars, restaurants and casino.
"Hot Tub Living Expo is the place to see the latest products and technologies available to the wet leisure industry from global suppliers. This event will offer something for everyone involved in the wet leisure industry – from the UK and further afield.  If you are thinking of exhibiting we have a solution to suit all budgets with additional sponsorship opportunities and the lowest pricing ever for an event in this sector.
"If you are interested in becoming a dealer, are currently a retailer, architect, leisure facility, holiday park or end user there is something for you.  There will be a huge range of products and services, industry experts onsite to offer you help and advise, solutions to improve your products functionality and efficiency and opportunities to increase your profitability plus much more.  We also offer free parking, free entry to the show and free wifi."
To book a stand at the Hot Tub Living Expo in October or to find out more details about any of the various elements of the event, including the VIP Preview Evening, contact the team at New Events directly on + 44 1428 609 382 or email via:info@neweventsltd.com