Major wet leisure industry role changes
Major role changes within the hot tub industry, along with enhanced training and new European standards, are part of a tenth anniversary overview announcement by BISHTA and BSPF Managing Director Chris Hayes.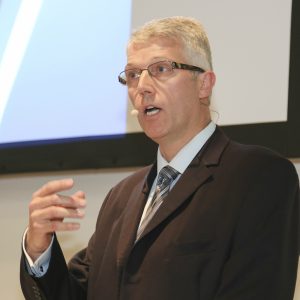 To mark his ten years in the roles, Chris, pictured, has looked back at what has been achieved to update the BISHTA Standards; as well as SPATA Standards, and the successful transition of SPATEX from Brighton to the Ricoh Arena in Coventry; during his tenure over the past decade, and has also revealed the new occupants of key positions in the wet leisure industry, who will be helping to promote quality hot tubs and best practices within the industry in the years to come.
BISHTA has also launched an awareness advertising campaign this year in the 2018 edition of WhatSpa? to highlight to prospective hot tub owners all the 'peace of mind' benefits of dealing with a BISHTA member.
"In the first five years, the focus was on getting BISHTA and SPATA Standards updated and with the help of the relevant technical committees this has been achieved," reported Chris ,as part of his reflection of the past ten years.
"Many of the membership benefits were also reviewed to make sure that they were relevant to our members. SPATEX needed a new home, and this was achieved at the end of this first five years.
"During the second five year period, SPATEX has been able to establish itself in its new home at the Ricoh Arena and my thanks to everyone that made this year's totally unforgettable. The work of Michele Bridle, Helen Mulingani, Penny Farmer, Thaynara Castro, the event team, and the Directors is fantastic.
"Equally stunning was the work of the exhibitors, who had some first-class displays and the education programme from the ISPE was incredibly well received. So too were the seminars from bodies such as PWTAG and the STA as well as a superb night at the SPATEX networking Party."
Chris revealed that there is now going to be a stronger link with global associations at a time when leading industry stalwarts will be handing over key roles for others to take up the challenge of promoting a wide range of exciting developments within the British hot tub and wet leisure market. Artesian Spas and Marquis dealer Pete Grinnal of Complete Spas will be taken on the role of BISHTA Chairman, which was previously held by Villeroy & Boch and Spa Crest hot tub dealer Alex Kemsley of Waterstream; while Golden Coast Managing Director Jamie Adams has revealed that he is looking to step down as PIP Chairman.
"There will be a greater movement towards working with colleagues around the globe through the World Alliance of Pool & Spa Associations (WAPSA)," divulged Chris.
"Training and education will also be taking centre stage, with new courses and qualifications being developed. It will also be a time for change as succession planning will see a number of the industry stalwarts passing on the baton to the next generation of people to meet whatever challenges we face.
"Over my ten years, I have had the good fortune to work with many people in the Boards, Councils and Committees and I am very grateful for all of their contributions. Will Dando has taken on the role of BSPF President from Alex Kemsley, and Will is putting the finishing touches to his President's Weekend being held in Brighton from September 14 to 16.
"Alex is also stepping down from his role as BISHTA Chairman to take up a position on the SPATEX Board, and BISHTA is fortunate to have Pete Grinnall to take over as BISHTA's Chairman.
"Jamie Adams has indicated his desire to step down as PIP Chairman and a replacement is actively being sought this year. There has also been consistency during this period with Richard Carrington and Howard Gosling chairing SPATA and SPATEX respectively, and Patrick Thorpe sharing his expertise as Company Secretary.
"Other significant milestones during this second five year period have been the development of eight new European standards for domestic pools and spas, and a large number of revisions of the eleven most applicable commercial (public) pool standards; including those for swimming pool equipment.
"Much of the industry guidance has been updated in the last five years, including Management of Spa Pools, now HSG282, PWTAG's Swimming Pool Water publication and the most recent document which is Managing Health & Safety in Swimming Pools, more usually referred to as HSG179.
"A constant theme throughout the last decade has been the need to promote the industry, through the funds raised by SPATEX, over £1.5M so far, and through the hard work of the beneficiary organisations, such as BSPF, PIP, SPATA, BISHTA and the ISPE.
"The annual industry awards provide a superb range of pools, spas, hot tubs and other wellness products to promote. Congratulations to all of the British Pool & Hot Tub Award recipients, the ISPE Award winners and the EUSA Award winners, including UK representatives Cheshire Wellness and Portrait Pools."
If you are interested in getting more involved by joining BISHTA or SPATA, or you are an existing member and you want to get more actively involved, then contact the Andover office of BISHTA by telephone on: 01264 356211 or via email at: admin@bishta.co.uk, or admin@spata.co.uk
For stand bookings for SPATEX 2019, taking place from January 29 to 31, contact the SPATEX team via email: michele@spatex.co.uk or helen@spatex.co.uk or telephone directly on: +44 (0) 1264 358558.
www.bishta.co.uk
www.spata.co.uk
www.spatex.co.uk