Moving forward with hot tub marketing
BISHTA is urging members to promote their hot tub dealerships effectively during the Covid-19 pandemic as part of the announcement for the launch of entries for the 2021 British Pool & Hot Tub Awards.
With its 'BISHTA moving forward' strategy during the Covid-19 coronavirus pandemic, the association has been implementing new measures to assist members with their showroom operations and customer service requirements during lockdown, while highlighting that there has been greater a demand for hot tubs and wet leisure products from consumers implementing garden projects and renovations as part of 'staycation' hot tub socialising hubs for the shared household members during the lockdown period.
Even though there has been an increased demand for hot tubs and associated wet leisure products, BISHTA has advised those in the hot tub industry not to neglect their sales and marketing strategies at this time after launching the online facility for entries for the 2021 British Pool & Hot Tub Awards, which are scheduled to take place during the evening of February 2 at the Ricoh Arena in Coventry; as part of the annual industry gathering during the special 25th anniversary edition of SPATEX that will also mark the 20th anniversary celebrations of BISHTA and the 60th anniversary of SPATA.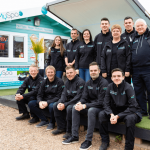 Multiple Gold Award winners this year in the BISHTA Awards presentation at the 2020 British Pool & Hot Tub Awards ceremony included Jacuzzi specialist Outdoor Living, including 'Showroom of the Year'; and Artesian Spas specialist North Spas; including a hat-trick of Golds in the Residential Hot Tubs £14,000 and Over category; and there were additional Gold Award wins by Marquis, Villeroy & Boch, and Catalina specialist Barnsley Hot Tubs, in the 'Best Use of Digital Media' category; and Jacuzzi, Vita Spa, Superior Spa and Platinum Spa multi-brand dealership Concept Spa, in the 'Hot Tubs in a Holiday Setting' category;  while the expanding team at multi-brand dealership MySpa UK, pictured, which specialises in Sundance Spas, Jacuzzi and Marquis, gained prestigious recognition in several categories including a Silver Award in the 'Best Use of Digital Media' category.
BISHTA has highlighted that the prestigious trade awards are an ideal way to promote the industry and individual award winners to a growing consumer audience, which is seeking products in greater numbers to enhance their homes and outdoor lifestyles in the UK while foreign travel restrictions are in place. The association has also stressed the importance of maintaining consistent marketing strategies even when turnover is healthy.
"These awards play a crucial role in promoting the industry, not only to the trade but more importantly, to a wider consumer audience," declared BISHTA Managing Director Chris Hayes.
"There is an increased demand for water leisure products currently, but even when business is good, and turnover is healthy, you should never stop marketing your business.
"The pandemic lockdown has meant people have spent more time in their homes and more time assessing their lifestyles, resulting in a growing desire to make improvements to their homes and especially their gardens.
"Adding to this, if we consider the likely restrictions applied on foreign travel for the foreseeable future, there is strong evidence that people are looking to improve their homes and lifestyle with water leisure products featuring high up on the list.
"If we find that 2021 becomes a more challenging year for businesses, should the economy be negatively affected, the marketing that you set in place now will help your business going forward."
2020 BISHTA Awards winners were:
Residential Hot Tubs below £7,000
GOLD – Outdoor Living
SILVER – Hot Tub Suppliers
BRONZE – North Spas
MERIT – Hot Tub Village

Residential Hot Tubs £7,000 to £14,000
GOLD – North Spas
SILVER – Euphoria Lifestyle
BRONZE – Barnsley Hot Tubs
BRONZE – MySpa UK
MERIT – All Weather Leisure Midlands

Residential Hot Tubs £14,000 and Over
GOLD – North Spas
GOLD – North Spas
GOLD – North Spas
SILVER – Concept Spa
BRONZE – Barnsley Hot Tubs
Swim and Exercise Spas
GOLD – North Spas
SILVER – MySpa UK
Hot Tubs Change Lives
GOLD – Outdoor Living
SILVER – Hot Tub Suppliers
Hot Tubs in a Holiday Setting
GOLD – Concept Spa
SILVER – Concept Spa
BRONZE – Hot Tub Suppliers
Hot Tub Happiness
GOLD – Hot Tub Suppliers
SILVER – MySpa UK
Showroom of the Year
GOLD – Outdoor Living (Leeds)
SILVER – Outdoor Living (Hull)
BRONZE – Barnsley Hot Tubs
Best Use of Digital Media
GOLD – Barnsley Hot Tubs
SILVER – MySpa UK
BRONZE – Hot Tub Suppliers
www.bishta.co.uk/home/coronavirus-covid-19-updates-bishta/