Original player promotion for 60th anniversary
Jacuzzi is promoting its 'Original player in luxury for over 60 years' marketing strategy to boost British sales during the diamond anniversary of the world's first whirlpool bath pump that paved the way for global hot tub success.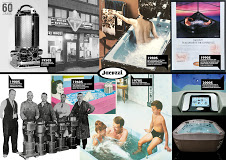 The original hydrotherapy pump was invented and later implemented in hospitals in 1956 by the youngest Jacuzzi brother Candido to help his son Kenneth Jacuzzi, who was suffering from debilitating rheumatoid arthritis. Kenneth's father modified an agricultural immersion pump and transformed it into the first hydrotherapy device the J-300 that could be used in the bathtub at home for his son and it initially became a small niche business with sales of the portable pump to hospitals and schools.
 
By 1968, Roy Jacuzzi, a third generation family member and keen entrepreneur, sensed the growing American consumer interest in health, fitness and leisure and invented and marketed the first self-contained, fully integrated 'Jacuzzi Whirlpool Bath'. Incorporating body jets into the sides of the tub, it became the bath that almost single-handedly created an industry and a world-conquering business.
 
As larger units were later designed to accommodate more people, Jacuzzi incorporated heating and filtration systems to keep the water warm and clean, leading to the creation of its first hot tub model in 1970. Meanwhile, the iconic line of 'Soaking, Pure Air Whirlpool and Salon Spa' experience baths from Jacuzzi Luxury Bath continues to push the boundaries of conventional bathing.
Jacuzzi Luxury Bath promoted the 60th anniversary and wide product range, including the award-winning Siena Freestanding soaking bathtub and new Duetta Bath, along with the display of the Stella bathtub, Bianca bathtub and the Celeste Freestanding bathtub, as part of a multi-faceted presence during the MA! Design is Human Expo and Architectural Tour event in Atlanta that targets the design community and architects.
"We are here to show the design community our expansive product offering, support their current design efforts and let them know that we manufacture locally in Georgia," said Jacuzzi Luxury Bath Vice President of Marketing Erica Moir.
On British shores Jacuzzi UK and its dealers have also been promoting the 60th anniversary at events including last week's Hampton Court Palace Flower Show extravaganza and Outdoor Living's appearance at the Great Yorkshire Show this week. Meanwhile Sapphire Leisure is attending the Avon Home & Garden Show for the first time from today, Friday, July 15, to Sunday, July 17.
Multi BISHTA award-winning Oyster Pools, which gained eight prestigious industry accolades across the two 2016 BISHTA and SPATA awards ceremonies earlier this year including the Peter Geekie Award for Retail Excellence sponsored by Certikin International, will be making their 15th appearance at the Royal Welsh Show from Monday, July 18, to Thursday, July 21. Throughout the event members of the Oyster Pools show team, spearheaded by Barrie McCabe and his wife Paula and his step-son Gareth, will be helping to promote the Jacuzzi AFS 16 with demonstrations of the swim spa model throughout the four days; along with a selection of hot tubs comprising of the J-480, J-375, J-355, J335, J-315, J-245IP, and J-235.
Ahead of this year's 60th anniversary promotions, Jacuzzi retailer and Euphoria Lifestyle Managing Director Mike Robinson had the proud honour of being able to exhibit the original Jacuzzi hydrotherapy pump, plus a collection of original Jacuzzi images dating back more than half a century, on the Euphoria Lifestyle show stand at last year's Goodwood Revival event.
 
Mike, who celebrated Euphoria Lifestyle's achievement of  BISHTA Gold Awards in the 'Residential Hot Tub £7,000 to £14,000' and 'Best Website' categories during the 2016 ceremony earlier this year, declared that he was delighted to have had the opportunity to display the historic Jacuzzi original hydrotherapy pump and the brand's historic memorabilia to visitors during the event.
"Visitors to our stand got to see a true museum artifact," said Mike. "Jacuzzi is a household name and a brand that truly defined a new product, spawning a market in itself.
"Although there are now many replicas available, the original Jacuzzi hydrotherapy pump and its associated products are the genuine article when it comes to wellness and we were proud to showcase some of these exciting images and revisit the era where this legacy began."
Jacuzzi, which has been bestowed with a trio of 2016 WhatSpa? Best Buy Awards for the J-245IP, J-335, and the innovative state-of-the-art J-575, has been implementing major marketing initiatives to compliment its 'Beware of imitations' campaign, and its latest 'The original player in luxury for over 60 years' sales campaign to increase sales and help to promote its iconic brand as part of the historic anniversary and its wide range of quality wellness products that have surpassed the one million sales mark.
These include the Aquafit System range that has been bestowed with a 2016 WhatSwimSpa? Best Buy Award for the Jacuzzi AFS 19 Pro, and the Sasha range that combines Tepidarium, Hammam and Caldarium technologies and is featured in the Sauna and Steam section of the 2016 edition of WhatSwimmingPool? magazine, which features the Jacuzzi 'Original player in luxury for over 60 years'consumer advertising campaign.
National Sales Manager Martyn Winstone, who has been providing support to help ensure record-breaking sales performances by the British network of Jacuzzi dealers, has revealed that the policy of strong marketing initiatives has been paying dividends with increased levels of new customers who have turned their backs on cheap online alternatives.
"Our strategy is to play to our own strengths by promoting our pedigree brand and products to the trade and consumer audience," said Martyn.
"There are suppliers who try to promote imitations of quality brands but they should not making false claims about their hot tubs to try and achieve sales. Retailers should be truthfully quoting where their products are made and not trying to promote statements that are not true.
"Our philosophy is to focus on what we do best and that is to continue to provide promotion for our innovative and unique quality hot tubs."
As part of the original team that re-introduced Jacuzzi hot tubs into the UK, Martyn has been heavily involved and influential in establishing the retailer network that now consists of over 30 dealerships. The foundation for this success was laid at the start of the new millennium when the UK Jacuzzi team achieved exhibitor success after they promoted a new line of Jacuzzi models to capture the attention of the visiting trade audience at SPATEX 2000 in Brighton.
"When we launched our new product range at SPATEX in 2000 we initially had six or seven dealers in the UK," reported Martyn; "This number has grown over the years to our present network that consists of over 35 independent showrooms."
In recent years this network of dealers has achieved record-breaking sales success following a number of high-profile associations with leading athletes and sports people; including Olympic Skeleton Bob Gold Medal winner Amy Williams who is featured on the cover of the tenth anniversary edition of WhatSpa? and in the 2016 issue's 'Stars in their Spas' article.
Due to her Winter Olympic Games exploits and her former training regimes, Amy revealed that she had to undertake cold water therapy by sitting in baths with ice cubes but now is advocating the hot hydrotherapy powers of a Jacuzzi, which she helps to sooth her body and mind.
"The relaxation you can get from sitting in a Jacuzzi is amazing," said Amy. "You've got so many other benefits as well, from mental wellness to de-stressing at the end of a long day.
"To sit in a Jacuzzi with some massaging jets on your back really relaxes your posture and eases any aches and pains."
Other sponsorship deals, such as the tie in with Leeds Rhinos for the 2016 season, have been implemented to promote the brand's pedigree product message as part of 'The original player in luxury for over 60 years' campaign to consumers during the 60th anniversary year and Martyn says it is an important part of the pedigree sales and marketing strategy for the iconic brand and its network of British retailers.
"Our aim has been to encourage our dealers to build on the promotional initiatives we've undertaken, as well as enhancing their showrooms and local marketing strategies to raise awareness about all of the aspects of quality hot tub ownership," reported Martyn.
"As a company we've gained various sports advocates and have launched many advertising and sponsorhip initiatives to increase awareness of the Jacuzzi brand and our quality message to prospective dealers and consumers.
"It has proved to be a success with increased sales performances but we're not going to be resting on our laurels. We've sponsored races in the winter Ski World Cup and Leeds Rhinos as part of this strategy."