Passion Spas headquarters suffers major fire blow
Dutch hot tub and swim spa specialist Passion Spas has suffered a catastrophic blow to its European headquarters in Holland after a raging fire ripped through the building and burnt it to the ground.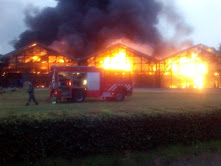 In recent years the company's founder Dolf Nieland and his brother Arno have been working hard to boost the European status and fledgling presence for the Passion Spas brand in the USA market. After reporting that sales had surpassed the 6,000 mark during 2015 the siblings were focussed on achieving further success with a major expansion project at their Holland showroom and warehouse facility that is now in ruins after the fire.
Ironically, as part of the major expansion initiative, there was set to be a multi-level display areas with the design based on Les Halles train station in Paris before the train station was burnt down.
"We are currently working to recreate the classic style of Les Halles in our enhanced showroom and headquarters in Holland as part of the expansion plans," reported Dolf during SPATEX 2016. "We started designing the plans in November 2014 and then we started work in March last year."
During appearances at major wet leisure exhibitions during the past year, dealers in Europe and the USA have been introduced to three new hot tub models. These are the entry-level Repose, the fully-featured Desire, and the Felicity that have been launched ahead of the spring season to boost options for Passion Spas dealers and their customers this year.
The trio of new Chinese-manufactured models were promoted to British audiences during the UK Pool & Spa Expo in November, ahead of it being renamed as the Hot Tub Living Expo, and the 20th anniversary edition of SPATEX after being promoted by the Michigan-based Passion Spas USA team at the Mandalay Bay Convention Centre in Las Vegas during the International Pool Spa Patio Expo.
The fire is a bitter blow for Dolf and his 100-strong team who have been gaining success in the hot tub and swim spa market by developing models for a specialist Chinese manufacturing facility, which employs 250 people to work on the various ranges.
Before the fire at his headquarters building in Holland, Dolf revealed that he had achieved over 6,000 sales in the previous year and would be continuing his strategy to produce new models to be launched at high-profile exhibitions and help the expansion of his USA division.
"We achieved 6,000 sales last year and want to be liked by the masses," said Dolf recently.
"Our intention is to be constantly developing and launching new hot tub and swim spa products. We are close to our customers and hear what they say. So we can then introduce some of their suggestions in our future models."