SPATEX 2021 going virtual
SPATEX organisers have announced that the 2021 edition is moving from a physical to a virtual format with the help of vFairs that is conducting a demonstration of its virtual event platform on Tuesday.
After other major wet leisure exhibitions have been postponed this year by the Covid-19 pandemic, and in line with recent government regulation to protect visitors and exhibitors, the 25th anniversary edition; which had been scheduled to welcome trade visitors in the Ericsson Exhibition Hall of the Ricoh Arena in Coventry from February 2 to 4; will now be a virtual outing and a demonstration of this will be taking place on Tuesday, October 20, at 10:30am.
Nick Brake of vFairs will be conducting a practical demonstration at this time and SPATEX organisers are now seeking confirmation of company representatives who wish to attend this online demonstration by sending their names and email addresses to: helen@spatex.co.uk who will then send out a personal invitation to the presentation.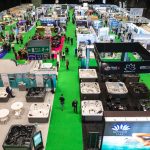 SPATEX Organiser Michele Bridle has revealed that, as was the case with the physical version of SPATEX, pictured, the virtual edition for 2021 will be free to attend and open to the public. Exhibitors will still be able to promote their hot tub and other wet leisure products to virtual visitors.
"SPATEX Virtual will offer an exciting and interactive platform to view and showcase all the latest innovations and new products for 2021– such as hot tubs, saunas, spas, swimming pools, steam rooms and enclosures plus all the associated equipment, such as heating and ventilation and chemicals," divulged Michele.
"Naturally, we are sad that we will not be bringing the UK and international industry together under one roof at Coventry's Ricoh Arena in the traditional way next February but we firmly believe that this is the best option to promote our industry in the coming year."
The SPATEX team has taken the decision to go virtual after other high profile wet leisure exhibitions, such as Piscine Global Europe in Lyon and Aquanale in Cologne, announced that they had postponed their 2020 dates with the intention to host them in the early months of 2021.
Organisers of the Holiday Park and Innovation show, which was scheduled for November at the Birmingham NEC and was due to be attended by members of the SPATEX team with BISHTA on a dedicated stand, have also postponed the two-day event and new dates have been put back to March 18 and 19 next year.
To gain a full appreciation of how the virtual SPATEX 2021 exhibition will work and benefit your company just send your name and email addresses to: helen@spatex.co.uk For further details contact Michele Bridle via email at: michele@spatex.co.uk or directly by telephone on: +44 (0) 1264 358558.