SPATEX organisers are riding a hot tub wave of optimism while preparing for the 25th anniversary edition of the wet leisure showcase after other European exhibition schedules have been hit by the Covid-19 pandemic.
The organisers are confident that the 2021 event will be a success, which also marks BISHTA's 20th anniversary and SPATA's 60th anniversary and have been highlighted that whilst 2020 is not a year that anyone would want to repeat, due to the pandemic that has swept around the globe, it has resulted in a strong surge in demand for hot tubs and some significant sales success stories for the wet leisure market. They have reported that along with puppies and bicycles, hot tubs have topped the list for being in short supply and a commodity currently in big demand as is exhibitor stand space for SPATEX 2021.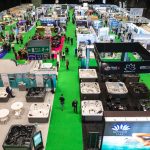 While other events; including high profile wet leisure exhibitions such as Piscine Global Europe in Lyon, and Aquanale in Cologne; have had to be postponed, or transferred to later dates in 2021, SPATEX, which had a 'green' eco-friendly theme this year, is maintaining its existing February dates schedule in the Ericsson Exhibition Hall of the Ricoh Arena, from February 2 to 4, and has enjoyed very strong bookings, with almost a third of exhibiting companies currently falling into the spa and spa-related sector.
Optimism is currently high among the SPATEX team, according to Show Organiser Michele Bridle who has also confidently declared that for those in the spa and hot tub business, or anyone looking to purchase, this is a 'must-attend show' and top priority date for the UK's wet leisure industry.
"SPATEX will build on and grow the momentum that many hot tub and spa businesses in 2020 have witnessed as a result of the reduction in foreign travel and the subsequent growth in consumer demand," said Michele.
"The industry has responded well to the timing of SPATEX in early February and as a result we've been rewarded with almost 75 per cent of exhibition space already sold. It reveals the fabulous level of optimism in the industry, the value of our annual show and the inclusive, unifying opportunity it presents… not just to the UK market but Europe and beyond.
"Work is currently underway between my team and the Ricoh Arena to ensure the systems are in place to make SPATEX the safest show possible. We're totally confident of achieving that aim.
"SPATEX 2021 promises to be an extra special event – following the postponement of this year's Piscine Global Europe and Aquanale, it represents the first opportunity for the whole industry to come together as one. In addition, it is also a major celebration. It marks SPATEX's 25th anniversary as well as SPATA's 60th and BISHTA's 20th.
"The SPATEX team will be releasing details shortly of some extra special events to set this edition apart from all that has gone before!"
Michele has reported that many familiar faces and hot tub and spa companies of all sizes have rushed to sign up for exhibition space including: Aqua Warehouse Group, Aquafinesse, Astral, Blue Whale, Certikin International, Complete Pool Controls, Earth Spas, GMT, MSPA UK, O-Care, Passion Spas, SCP UK, Spa Parts Vortex, Spaflo Ltd, Sunbeach, SuntrapSystems, Superior Spas, The Hot Tub Outlet, The Mosaic Spa Co, and Wellis.
Many of the companies that provide specialist hot tub and spa services to the wet leisure market, including 1 Stop Spas, and Aqua Spa Supplies, will be returning for a successive appearance to highlight the latest raft of hot tub associated products at SPATEX.
Spa Solutions Managing Director Anthony Scheikert, who has achieved back-to-back success as an exhibitor in 2019 and 2020 to launch and showcase the futuristic WhatSpa? Best Buy Award-winning Vortex Spas IKON to the UK trade, and highlight cutting-edge functionality that can be found in the 2020 WhatSpa? Best Buy Award-winning Vortex Spas Mercury design as well as introduce the new line of Vortex Spas swim spas being supplied to the UK market that features the 2020 WhatSwimSpa? Best Buy Award-winning Vortex Spas Aqualap Pro Plus, is scheduled to complete his hat-trick of exhibitor appearances during the 25th anniversary edition.
"SPATEX is one of the company's best showcases in the world and we will be returning in 2021," said Anthony.
"Spa Solutions is committed to ensuring total satisfaction for Vortex Spas customers and achieving further success in the UK market. Distributing this brand to a network of top dealers is the highlight of my career."
Established SPATEX exhibitor and Aqua Warehouse Group chief Richard Hart has also reported that SPATEX is the 'highlight of the year' for the Vita Spa and Covana automatic cover system supplier and 'the time and place to meet up with old customers and new'.
"If you're in the spa or pool business then a visit to SPATEX is simply a must," declared Richard.
For stand bookings for SPATEX 2021, running at the Ricoh Arena from February 2 to February 4, contact the SPATEX team via email: michele@spatex.co.uk or helen@spatex.co.uk or directly by telephone on: +44 (0) 1264 358558.