Wet leisure star joins Marquis
Employee-owned USA hot tub and swim spa manufacturer Marquis has announced that its UK dealer network has been boosted by the news that an experienced award-winning wet leisure 'star' has joined its ranks.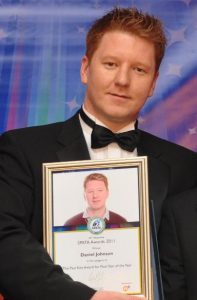 Dan Johnson, pictured, who won the 'Paul Kite Award for the Pool Star of the Year' during the 2011 SPATA Awards ceremony, has been appointed as Account Executive to serve the flourishing Marquis dealer network in the UK; including WhatSpa? Approved Billinghay-based 1Stop Spas, Bridgend-based Bos Leisure, and Aberystwyth-based Welsh Hot Tubs.
Marquis Director of Global Sales Steve Hasenmueller has revealed that the company, which is famed for its 'Make A Wish' donations and activities, is excited with the appointment. It  will tap into two decades of experience and revive Dan's relationship with the brand that he had dealings with while working for wet leisure product specialist and former Marquis distributor Golden Coast.
From his home in the South West of England and out on the road, Dan will now be the primary point of contact for UK dealers and fully resourced to help and support them with any inquiry.
"One of the biggest challenges in hiring for this position is the long learning curve of products, programs and dealer relationships," explained Steve.
"With Dan, his experience at Golden Coast and in retail, and his relationships with almost half of our Marquis UK dealers, we negate those challenges; which can prove to be very impactful for everyone.
"We are very pleased and excited to welcome Dan and his young family to the Marquis family."
Following his 'homecoming' appointment, Dan will be able to tap into his many years of experience working in warehouse spa distribution and as a retail sales person. His experience on both sides of the spa business gives him a wealth of industry knowledge and involvement.
In addition, his familiarity with the Marquis brand and product range and dealer base will enable him to quickly establish himself with the dealer network and build valuable relationships to promote the Oregon-based manufacturer's cutting-edge technology including the advanced Vector21 hot tub options, with the V-O-L-T hydrotherapy system; and Aquatic Training Vessels (ATV) range of swim spa models.
"I'm ecstatic to be heading up the Marquis hot tub dealer network," enthused Dan.
"Having worked with Marquis years ago, I know they are a truly great company. For me, it feels like a homecoming.
"The role itself will be varied and challenging, yet at the same time a supremely rewarding task."
The appointment follows Marquis achieving the top spot ranking in 'Dealer Training' for 2017 and an industry top total score from the 2017 TradeCertified Report on dealer network assessments of hot tub manufacturers.  The 'Number One Rating' for Marquis by independent dealers across North America placed the company at the top of the hot tub industry among 18 national brands tested and for the sixth time in the last seven years Marquis was ranked 'Number One' overall in 'Customer Service Responsiveness'.
"This recognition is validation that everyone's efforts are moving us forward with momentum," said Marquis Corp President John Schrenk.
Marquis dealers in the UK have also been helping to promote the brand's WhatSpa? Best Buy Award-winning status; including 2017 accolades for the three-seater Spirit in the £7,500 to £9,999 price category; the eight-seater V94 in the £10,000 to £14,999 price bracket, and the six-seater Epic in the over £15,000 category of the consumer magazine.