Hot tub duo from Spanish manufacturer
Spanish hot tub manufacturer Aquavia Spa is aiming to attract British dealers to promote its 'Made in Europe' products after launched the new Wave and Sunset models to its blossoming range for the spring season.
With a total of 68 jets each, 12 air nozzles and two massage pumps, the Wave and Sunset models are the latest additions to the European market from the Spanish manufacturer's production line. They are being promoted with emphasis on the ergonomic designs of each individual seat within both models, which facilitate the transition between different seating positions.
Designed to accommodate six people and to provide special Thoracic Massage as well as upper back, lower back and foot massage capability the two models have Ultraviolet Treatment, digital control panels, LED lighting, and Aromatherapy. Four colour choices are: White, Pearl Cameo, Sterling, and Pearl Shadow. There are also three cabinet options, which are: Walnut, Graphite, and Thunder.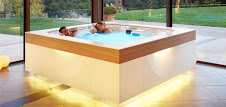 The Wave, pictured, from Aqua Via Spa's Exclusive range is the most expensive of the two new models, retailing currently at 19,000 Euros, and builds on the manufacturer's stable of cutting-edge hot tub models with a luxury exterior design, a white Solid Surface finish combined with an Enigma HPL colour finish.
Boosting the Premium stable of options, the new Sunset, retailing at around 12,000 Euros, has been launched with a professional massage option, to cater for the most demanding customers. The Flexible Massage system is the manufacturer's new sequential massage capability with a choice of ten different preset programmes.
Aquavia Spa Company Manager Artur Deu was on the Cervera-based manufacturer's stand during the 20th anniversary edition of SPATEX at the Ricoh Arena, which proclaimed the fact that its products were bringing 'Spanish sun' to British dealers and their prospective customers.
This year the company is aiming to utilise the trade publicity for the launch of the Wave and Sunset models to kick-start its UK promotional activities, which previously included marketing of its distinctive four-seater Cube design at the UK Pool & Spa Expo, which has now been renamed the Hot Tub Living Expo, that subsequently achieved a 2014 WhatSpa? Best Buy Award accolade in the £12,000 + price category.
"Our new Wave and Sunset models have a minimalist design and have the benefit of being able to provide different massage sequences in each individual seat that have various depths so that they can accommodate owners and users with different sizes," said Artur.
"We don't sell a high amount of Cube models because it's not like a traditional hot tub but it provides our dealers with something different to offer their customers. In the UK it has achieved good sales to hotels but the country with the top demand for it at the moment is Germany."
With three UK dealers already on board, Artur revealed that the Spanish manufacturer is now committed to a long-term strategy to build up its dealer network and enhance its fledgling presence in the British market. Prospective dealers can obtain further details by contacting Aqua Via Spa at: aquaviaspa@aquaviaspa.com
"We've got a long-term strategy with the British market," said Artur.
"We already have three dealers in the UK and we're now hoping to bring on more retailers in the next few years.